PXP Financial has been at the forefront of shaping and driving payments innovation for many years. Today, we have more than 150 employees from 25 nationalities working in offices across different corners of the globe. We thought we'd give you a world tour of PXP offices to help you get to know us a little bit more. Our first stop? Vienna.
Located close to the city centre, our Vienna office is a real hub within PXP. We sat down with our Banking Relationship Manager, Maral Sheikhestani, to see what she had to say about working at PXP in Vienna.
Q: What do you think Vienna/Austria is most known for?
Maral: "There's definitely a few things that Austria and specifically Vienna are known for. For food I think the most well-known dish is Wiener Schnitzel, which roughly translates to Viennese cutlet. Sachertorte, a rich chocolate cake with a signature apricot jam layer, is also highly associated with Vienna as it was first made here.
Vienna is rich in culture. Mozart often comes up when thinking about Austria. Opera is a big one; the Wiener Staatsoper is a world-leading opera house. Other things specific to Vienna are the Wiener Walzer (translated to Viennese waltz), Fiaker-fahrt (horse and carriage rides) and the Schönbrunn Palace, which is one of many incredible places to visit here."


Q: What interesting things are happening in the Austrian payments industry?
Maral: "A few key companies are driving the market in Vienna/Austria. For example, Paysafecard, WesternUnion, and some credit institutions like Erste Bank, Raiffeisen, and Bank Austria. And of course PXP has a significant presence!''
Q: What are the most exciting things to do in Vienna?
Maral: "It definitely depends on the season. I'd say in the summer, after-work drinks by the Donaukanal are a lot of fun. The classic summer to-dos are the walks of Standtwanderweg and going to a Buschenschank/Heuriger (similar to a wine tavern). In the winter, it has to be the Christkindlmarkt (Christmas Market), ice skating, and enjoying some Glühwein, which is like an Austrian/German mulled wine.
More generally, our office location is great because it is so central. There are so many incredible locations to go to lunch or dinner with colleagues or clients. I could go on for a very long time naming the best local places! Ramasuri, Salettl Pavillon, Tachles, Melangerie Bistro & Caffeterie, and Artner am Franziskanerplatz are just five randomly picked examples, but the list goes on endlessly!''


Q: Please tell us about working in the Vienna office.
Maral: "It's always considered the operational hub of PXP. A part of the C-level management is located in Vienna. There are also a lot of other departments present, such as risk, account development, project management, IT, product, a part of finance, and development.
We have a great team of people in the Vienna office. My team manager is excellent - the best people manager award definitely goes to him! We recently did a team day (cooking!) that was hugely enjoyable. I also really appreciate the flexible working at the office, i.e., office hours and remote working. I look forward to continuing to be part of the Vienna team!"
Find us here: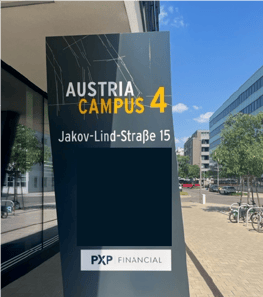 About PXP Financial
The end-to-end payment platform: PXP Financial provides a single unified payments platform to accept payments online, on mobile and at the point of sale. Powered by inhouse acquiring, 200+ alternative payment methods & financial services, PXP processes over EUR 22.7 billion annually through its unified gateway. Whatever your business needs today or tomorrow, PXP Financials' innovative payment platform will support your business growth with all the payment services you will ever need from one source, wherever your business takes you. To find out more about PXP Financial family of companies, visit: www.pxpfinancial.com.